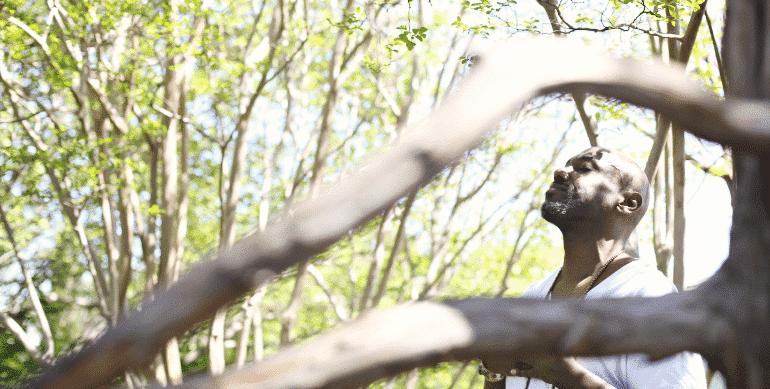 I Speak About Self-Love As The Key to Healing Ourselves, and Manifesting Truly Delicious Lives.
As a speaker, I am storyteller. I share the true stories from my life that taught me something about how to self-heal + receive through the practice of self-love.
Some topics we can explore:
Self-Love Your Way There: My Miraculous Healing Story
The 5 Needs of Your Soul
Healing Trauma through the Path of Self-love
Why Self-love is the Real "Secret"
Tribe as Medicine: The Effects of Community & Loneliness on Our Wellness

How Traditional Spirituality Made Me Sick

Why Disease Isn't a Medical Condition, but a Spiritual Condition
Leisure as the Path to Black Liberation
This Can Be Heaven, Too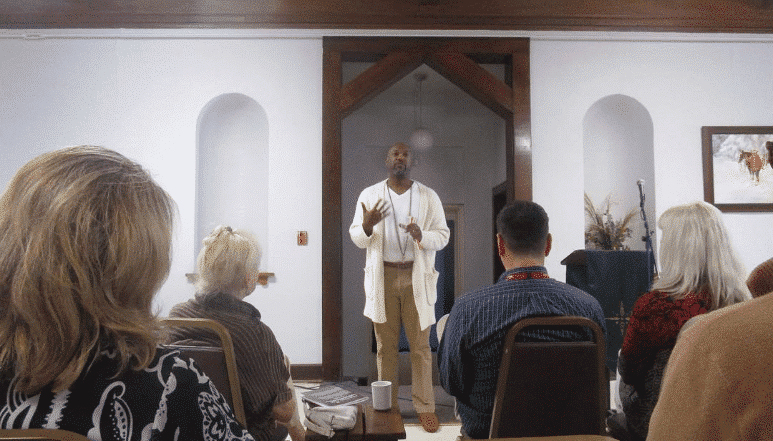 Keynotes. Half-day worthshops (This is what I call my workshops). Full-day immersions. Multi-day retreats.
Corporations, conferences, colleges.
Seminaries, solo stages, sanghas.
Roundtables, boardroom tables, kitchen tables.
Podcasts, presentations, prisons.
MY TALKS ARE OFFERED WITH LARGE DOSES OF LOVE + LAUGHTER, FOR AUDIENCES AS INTIMATE AS TEN, AND AS GRAND AS TENS OF THOUSANDS.
Martin Charles
Jerome's presentations stay, they linger in you. I literally remember what he's said years after I attended his workshop. And it's because his teachings make life workable. They make it better.
Zoë K.
Jerome's work is so beautiful and essential. I truly see him as one of the great sages and healers of our time. Everything about him is medicine. On a soul level, on a human level. I'm not just blowing smoke up your ass. He has the gift to reach people... ALL people...in a way that could truly shift the vibration of the planet.
During Jerome's transmission I cried for the first 15-20 minutes straight. It felt like the energy of pure and total love was pouring straight into my chest. Felt like this warm, rich, glowing orb floating there in the center of my chest. GOD one of the most beautiful sensations I have ever experienced in my body. There may be more to digest and I'm starting with this.
Jerome's being is so potent. I'll never be the same again, thankfully. I feel like there was before Jerome, and after. Just so much love to him.
I don't think I've ever received such a pure transmission of love that penetrated me that deeply. Tears streaming almost the entire talk. There was a moment you stopped to listen, and then said something to the effect of we're meant to take love where it's never been before. I lost it. Your presence is pure love in the truest sense of the word and words can't do it justice. I basically started crying as soon as you came on. The look in your eyes blew me open. God what a presence. I will never forget you or your words in my body.
Susan Stackpole, Host of YOUnique Radio Show
The things that Jerome speaks about and what he's teaching should have been what was in 'The Secret.' I mean, what he shares really should be taught in our schools and universities. I mean, WOW!
Monique R.
Jerome is a healer's healer. He's a teacher's teacher. His very message is medicine for each and every person who is willing to listen to him and apply what he's learned from Spirit. His message and energy are so cutting edge, they shatter nearly everything we've ever considered about self-love.
A mark of a true master is to be able to teach profound things in a way that the people the teaching is meant for can really take in and receive, and Jerome did that. The Truth Jerome spoke was simple and yet so profound.
Thank you so much, Jerome. I could feel you. I could feel love. I could feel joy. Your embodiment, presence and energy; they were a gift to experience.
One thing I really appreciated was how you talked about the "I am lovable" part. You'd mentioned that we might not currently hold that as true. Then you'd acknowledge some reasons why that might be the case. Then you'd be explicit that you didn't want us to shame spiral or beat ourselves up over it and then say why. Which is just.. uggghhh I don't know, sooo gooood man. It created all this space in which I could hear you. Like you were speaking to literally hundreds of us, but I felt personally held. I could feel your mastery there.
What do you have in mind?
Complete the form below and tell me about your event.
Share the nature and vision of your gathering, your timing and other necessary details. If it's aligned, we'll work together to create something beautiful and transformative for your audience.
I usually speak in one hour to ninety-minute segments, and my workshops are usually three hours.
This is for in-person events. If you're interested in me speaking at your virtual events,